Shipping Container Pools or Fiberglass Pools: Who Wins?
In the quest to find the perfect pool for your backyard oasis, you may find yourself at a crossroads between two popular options: Shipping Container Pools and Fiberglass Swimming Pools. Both have their unique allure and practicality, but which one is the right fit for your home? Let's dive into a detailed comparison to help you make an informed decision.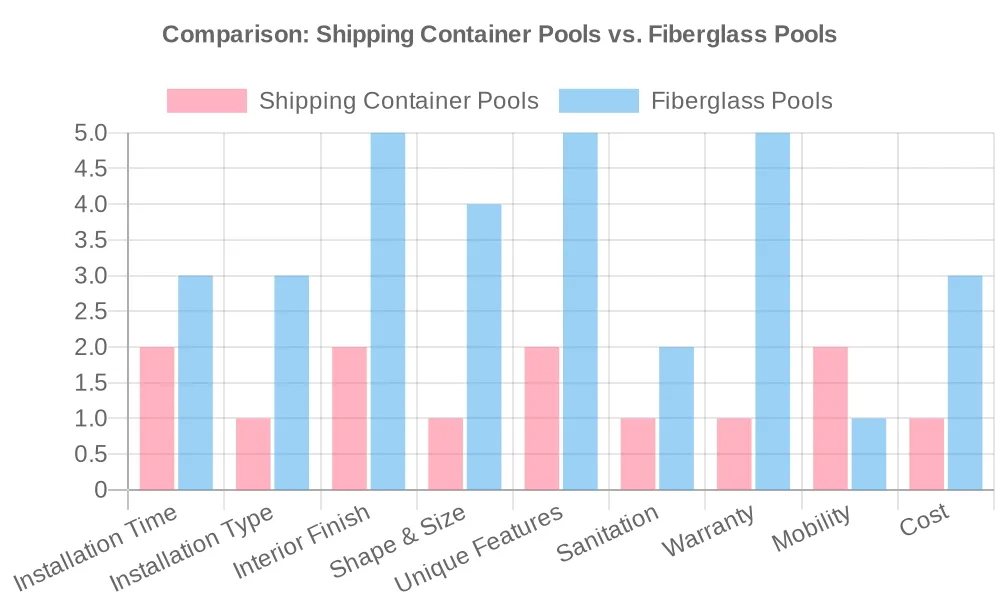 Installation, Finish, and Shapes Comparison
Installation: Ease and Efficiency
Shipping Container Pools
These pools are known for their speedy installation. Often installed above ground, shipping container pools offer a quick transformation of your backyard with a few days' setups. Their construction is primarily completed offsite, sparing you the lengthy backyard disruptions typical of traditional pool installations. While most are designed for above-ground placement, some adventurous homeowners opt to install these container pools inground, although this doesn't categorize them as true inground pools. Additionally, many choose to complement these pools with surrounding decks, enhancing accessibility and aesthetics, albeit at an increased cost.
Fiberglass Swimming Pools
Contrastingly, fiberglass pools are predominantly inground installations, creating a more traditional pool appearance. They can also be installed semi-inground or reinforced for above-ground setups with elegant wrap-around decks. Like their shipping container counterparts, the majority of a fiberglass pool's construction occurs offsite, leading to a relatively quick installation process in comparison to other inground pool types. Typically, you can expect a fiberglass pool to be ready for a dip within 2 to 4 weeks.
Interior Finish: Style and Longevity
Shipping Container Pools
The interior finish of these pools varies significantly depending on the manufacturer. The common finishes include fiberglass inserts, epoxy and elastic polymer combinations, vinyl liners, and the traditional concrete and plaster. Each finish has its pros and cons, with considerations around durability, maintenance, and aesthetic appeal. For instance, coatings like epoxy may require refinishing every 8 to 10 years, while vinyl liners might need replacing every 5 to 9 years.
Fiberglass Swimming Pools
Fiberglass pools boast a gelcoat finish, known for its smooth texture, durability, and resistance to algae. This low-maintenance option rarely requires refinishing. Some shipping container pools do utilize fiberglass inserts, which offer similar benefits if manufactured to high standards.
Shape and Size: Flexibility and Fit
Shipping Container Pools
When it comes to shape, shipping container pools typically offer rectangular and square options. The rectangular form is similar to lap pools, offering a streamlined look. However, the width is generally limited to about 8 feet, with lengths stretching up to 40 feet for larger models.
Fiberglass Swimming Pools
The range of shapes in fiberglass pools is notably broader. From classic rectangles to elegant roman ends and versatile freeforms, these pools cater to a variety of aesthetic preferences and space requirements. The maximum size for fiberglass pools generally extends to around 16 feet in width and 40 feet in length, with some models slightly larger, depending on the manufacturer.
This concludes the first segment of our detailed guide. May I proceed with the next segment, which will cover features, sanitation, and warranty aspects?
Features, Sanitation, and Warranty
Unique Features
Shipping Container Pools
While these pools might offer a basic setup with bench seating, their standout feature is the option for glass windows. These windows can be installed on any side, providing a unique visual experience and fantastic photo opportunities. Some models might include small tanning ledges or modifications for spa use, though these are more exceptions than standard offerings.
Fiberglass Swimming Pools
Fiberglass pools shine in this category, often coming with a range of built-in features. From spas and tanning ledges to bench seating and beach entries, these pools are designed to provide a complete leisure experience. The integration of these features ensures there's ample room for both relaxation and swimming.
Sanitation: Keeping Your Pool Pristine
Shipping Container Pools
Standard chlorine is the go-to sanitation method for these pools. While some manufacturers may permit the use of salt systems, it's important to note that salt can accelerate corrosion on the metal components of the container, potentially reducing the pool's lifespan.
Fiberglass Swimming Pools
These pools accommodate a broader spectrum of sanitation methods, including traditional chlorine and salt systems. The versatility in choosing a sanitation method allows for a more personalized approach to maintaining your pool's cleanliness and health.
Warranty: Ensuring Long-Term Satisfaction
Shipping Container Pools
Warranties for shipping container pools are typically shorter. Some may last as little as three years and can be voided if the pool is moved improperly. This aspect is crucial to consider for those who envision relocating their pool in the future.
Fiberglass Swimming Pools
In contrast, fiberglass pools often come with extensive warranties, some even lasting the lifetime of the pool. Surface warranties can extend beyond ten years. We, for instance, offer a limited lifetime structural warranty and a 15-year finish warranty. These warranties can sometimes be transferred to new homeowners, adding value to your property.
We have delved into the features, sanitation methods, and warranty differences between shipping container pools and fiberglass swimming pools. While shipping container pools offer unique aesthetic elements like glass windows, fiberglass pools lead in built-in features and extensive warranty coverage. Sanitation methods vary, with fiberglass pools providing more options.
Mobility, Cost, and Conclusive Comparison
Mobility: The Flexibility of Relocation
Shipping Container Pools
One of the intriguing aspects of shipping container pools is their mobility. These pools can be relocated, making them an excellent choice for those who might move homes but wish to keep their pool. While moving them requires heavy machinery and adherence to local pool ownership regulations, their portability sets them apart in the pool market.
Fiberglass Swimming Pools
Contrary to popular belief, fiberglass pools are not designed for relocation. Once installed, they become a permanent fixture of your property. The process of removing, transporting, and reinstalling a fiberglass pool is not only costly but also risks damaging the pool shell. Therefore, fiberglass pools are generally not considered mobile.
Cost: Investment and Long-Term Value
Shipping Container Pools
Starting at around $17,000 for smaller models, shipping container pools present an attractive option for budget-conscious consumers. Larger models can reach upwards of $40,000. However, it's important to factor in potential additional costs for finishes and features, as well as the shorter lifespan of interior coatings and the possibility of corrosion.
Fiberglass Swimming Pools
Fiberglass pools represent a higher initial investment, with prices beginning at approximately $40,000 and potentially reaching $85,000 or more for premium models. This higher cost is justified by the durability of materials, the array of built-in features, and the longevity of the pool. The long-term value, coupled with extensive warranty coverage, makes fiberglass pools a sound investment for those looking for quality and longevity.
A Conclusive Comparison Between Shipping Container Pools and Fiberglass Pools
When weighing the options between shipping container pools and fiberglass swimming pools, several factors come into play. Shipping container pools offer a unique, modern aesthetic with the advantage of mobility and lower initial costs. They are ideal for those seeking a quick, budget-friendly solution with a contemporary twist.
Fiberglass swimming pools, on the other hand, offer a more traditional pool experience with the added benefits of durability, a wide range of built-in features, and extensive warranty coverage. They are suited for homeowners looking for a long-term investment that enhances their property's value and provides a comprehensive swimming experience.
Final Thoughts
Choosing between a shipping container pool and a fiberglass swimming pool depends on your specific needs, preferences, and long-term plans. If you prioritize uniqueness, budget-friendliness, and the option for relocation, a shipping container pool might be your best bet. However, if you're looking for a durable, feature-rich pool with a long-term warranty, a fiberglass swimming pool would be a more suitable choice.
In conclusion, both pool types have their unique strengths and appeal. Your decision will ultimately reflect your personal lifestyle, budget, and vision for your ideal backyard retreat. Still stuck? Talk to Us!!
We are with you every splash of the way
Need a pool fix or looking for an upgrade? We're just one click away to help with all your pool needs.