Smart Pool Decor Ideas for a Refreshing Backyard Look
Imagine stepping into your backyard, greeted by the soothing embrace of your personal oasis. The sun dances upon the water's surface, a crystal-clear invitation to unwind in your very own pool paradise. Yet, something feels amiss – your pool, though delightful, lacks that personal touch, that unique character that makes it unmistakably yours. It's time to transform this space, not just into a pool but into an extension of your home's charm and your personal style. In this guide, we'll walk you through seven innovative pool decor ideas to elevate your backyard into a sublime retreat.
The Art of Low Maintenance Elegance
Before diving into the aesthetics, let's talk practicality. Pool maintenance, as any pool owner knows, is a task in itself. The key to a blissful poolside experience is simplicity and durability. Opt for decor elements that demand minimal upkeep, blending seamlessly with your busy lifestyle. Weather-proof and water-resistant choices are your allies here, allowing you to set, forget, and enjoy without adding to your to-do list. Look for outdoor furniture and pool decor that promise longevity and resist the harshness of the elements, ensuring that your poolside haven remains as effortless as it is enchanting.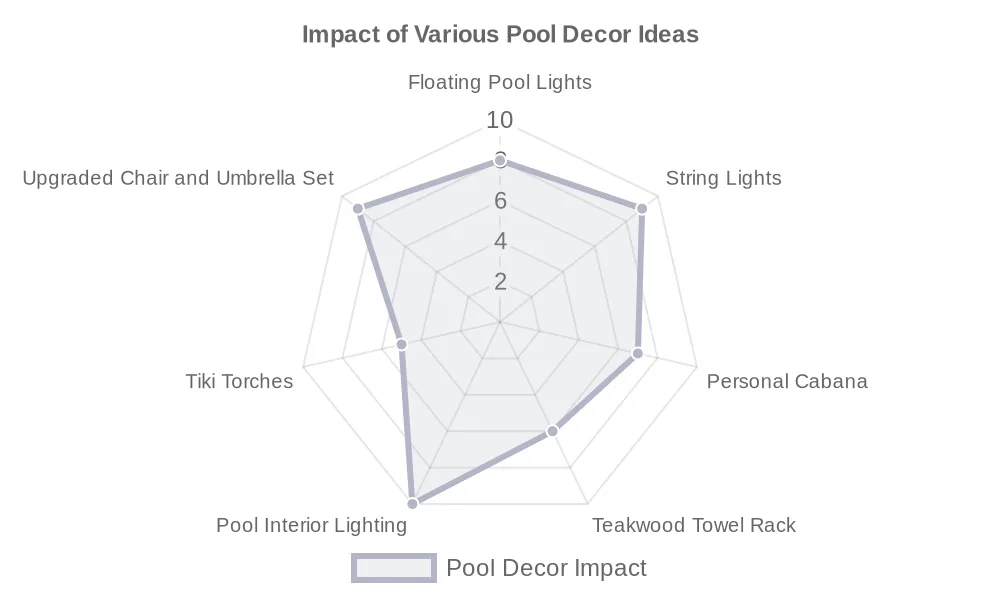 Floating Pool Lights
As the sun sets, transform your pool into a luminous spectacle with floating pool lights. These vibrant orbs offer a spectrum of colors, enchanting both young and old. Affordable and versatile, they enable you to switch from a serene white glow to a kaleidoscope of hues, perfect for weekend gatherings or quiet evenings alike. Picture the tranquil waters of your pool coming alive with dancing lights, turning every night into a celebration.
String Lights
Complement the aquatic ballet of your floating lights with the terrestrial twinkle of string lights. These aren't just decorations; they're practical, affordable solutions to outdoor lighting. Draped over your pool, lining the walkways, or adorning your patio, string lights create a magical atmosphere. Large bulb varieties offer ample illumination, removing the need for costly outdoor lighting fixtures. As night falls, watch as your backyard transforms into a fairy-tale setting, inviting you to create memories under the stars.
The Charm of a Personal Cabana for a Pool Decor
Dreaming of a tropical getaway right in your backyard? A cabana can bring this vision to life. If you have an existing gazebo, a simple transformation with your favorite beach-inspired fabric – think serene blues, sandy tans, or classic stripes – can recreate the cabana experience. Drape the fabric artistically, leaving some open to the breeze, and your gazebo becomes a poolside haven. Starting from scratch? Construct a basic open-structure with a roof, adorn it with fabric, and voilà – your own private resort, perfect for escaping the summer sun or enjoying a moment of solitude.
The Epitome of Outdoor Chic
The blend of functionality and style is epitomized in a teakwood towel rack. Renowned for its durability and weather-resistant qualities, teakwood is ideal for outdoor furnishings. A well-placed towel rack serves as a convenient spot for your poolside essentials while adding an element of sophistication to your pool decor. Personalize it further by adorning it with greenery from your garden or wrapping it with string lights for an extra touch of whimsy. If you're handy, crafting your own towel rack can be a rewarding project, allowing you to tailor it to your space and style preferences.
Pool Interior Lighting
Elevate your pool's allure by installing lights within the pool itself. Beyond the functional clear white light for safe night swimming, consider the excitement of colored lights. Transform your pool into a vibrant oasis, reflecting your mood or the theme of your gathering with changeable colored bulbs. Imagine the delight in your children's eyes as they swim in illuminated, colorful waters, creating an experience akin to a luxury spa right in your backyard.
Tiki Torches and Elegant Furnishings
No poolside sanctuary is complete without addressing the practicalities of outdoor enjoyment. Tiki torches are more than just a decorative element; they are a functional necessity in the warmer months. Infused with citronella, these torches ward off unwelcome insects while adding a touch of tropical allure to your poolside. Economical yet effective, they can be strategically placed to maximize bug protection and enhance the ambiance, transporting you to a tropical paradise with each flickering flame.
Upgraded Chair and Umbrella Set
The final piece in your poolside puzzle is upgrading your seating. A cohesive chair and umbrella set is not just a functional addition but a statement of style and luxury. It's the subtleties that make a significant impact; a matching set brings a sense of uniform elegance that elevates the entire area. If budget-conscious, consider revamping your existing furniture with teakwood and new cushions. Selecting fabrics that complement your overall theme – perhaps a soothing white for a resort-like feel or vibrant patterns for a more personalized touch – can transform your seating area into a chic, comfortable retreat.
Conclusion
In embarking on this journey of transforming your pool area, remember that the essence of great pool decor lies in balancing beauty with functionality. From the whimsical dance of floating and string lights to the practical elegance of a teakwood towel rack, each element contributes to creating a space that is uniquely yours. Whether you're building a cabana for a private escape, lighting up the night with underwater lights, warding off insects with tiki torches, or lounging in upgraded poolside furniture, your backyard can become the epitome of a personal retreat.
Embrace these ideas, let your creativity flow, and watch as your pool area evolves into a haven of relaxation and joy. Your pool is not just a body of water; it's the heart of your backyard oasis, a place where memories are made, and tranquility reigns. So, look into these pool decor ideas and craft a poolside experience that resonates with your style and spirit.
We are with you every splash of the way
Need a pool fix or looking for an upgrade? We're just one click away to help with all your pool needs.